Stocks on Bursa Malaysia ended last Friday higher following continued buying interest amid profit taking ahead of the weekend. The FBM KLCI finished at 1,715.58, up 14.04 points, or 0.83% after moving between 1,698.26 and 1,720.82 throughout the day. On a weekly basis, the benchmark index fell 18.66 points from previous Friday's 1,734.24. Gainers beat losers by 537 to 283 with 298 counters unchanged. Total volume fell to RM1.67 billion units valued at RM1.66 billion from 1.82 billion units valued at RM1.83 billion on Thursday. Weekly turnover rose to 8.73 billion units worth RM8.89 billion, from 8.27 billion units worth RM9.37 billion traded previously.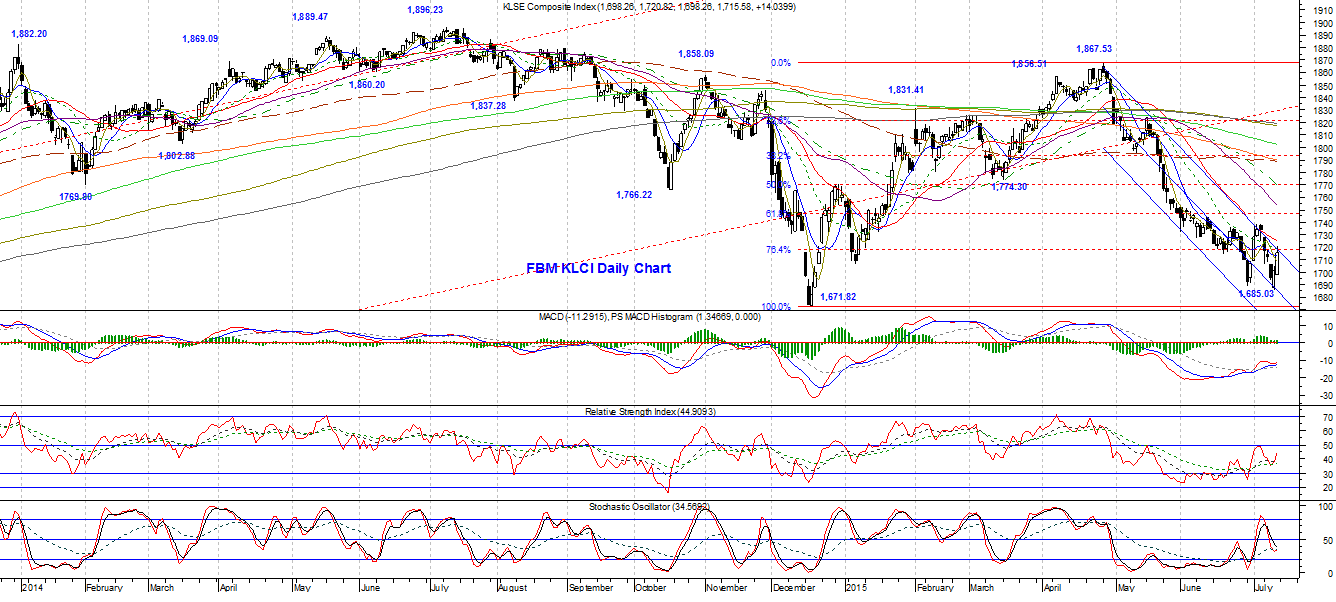 Following the Greek referendum with a 'No' to the bailout conditions set by creditors, the benchmark FBM KLCI opened last Monday 5.81 points lower at 1,728.43, the intra-week high, and slipped lower to close 17.19 points weaker at 1,717.05 after hitting an intra-day low of 1,706.60. Ringgit Malaysia also fell to a 16 year low of 3.8056 against the US dollar, the weakest in 16 years. Continuing the selloff from Monday, the FBM KLCI lost another 4.75 points to 1,712.3 on Tuesday, in tandem with regional peers. The FBM KLCI was down 16.47 points to 1,695.83 on Wednesday on continued foreign fund selling on political concerns amid weaker crude oil prices, and market sentiment was also dampened by the fallout from the panic in the China stock market. The FBM KLCI rebounded to close 5.71 points higher to 1,701.54 on Thursday, after hitting an intra-week low of 1,685.03, driven by domestic buying for selected heavyweights, and the key index continued its rebound on Friday with 14.04 points to end the week at 1,715.58.

On the weekly chart, the FBM KLCI formed a black hammer candlestick, a bottom reversal candlestick pattern, which indicates the appearing of strong buying support at level below 1,700-point, and hence the FBM KLCI is likely to stage further rebound in the coming week to challenge the immediate overhead resistance at 1,738-point on the weekly chart. On the daily chart, the FBM KLCI formed a bullish long white candlestick which continued the rebound from Thursday. Hence, is likely to continue the bullish upward move to climb higher today. Immediate overhead resistance zone is at 1,720 to 1,738, while the downside support zone is at 1,700 to 1,685.

Weekly MACD slipped lower but its histogram contracted upward for a second bar, indicating a state of consolidation with an upward bias. Daily MACD hooked upward, and its histogram also extended upward for the first time after contracting for four consecutive bars, indicating a change in momentum to the upside. Weekly RSI (14) hooked downward to 36.5 from 39.5, indicating a pullback correction after a rebound the previous week. Daily RSI (14) was high at 44.9 from 38.3, indicating a change in the short term relative strength from bearish to a mildly bearish state. Weekly Stochastic climbed higher to 14.8 from 11, after making a golden-cross the previous week, indicating continuation of the upward momentum and the weekly strength of the key index is turning stronger. Daily Stochastic hooked upward to 34.6 from 31 but is still below the slow stochastic line, indicating a changed in the index's daily strength to the upside. In short, readings from the weekly indicators showed that the FBM KLCI is consolidating on the weekly timeframe with an upward bias, while readings from the daily indicators showed signs of bullishness with all three indicators turning upward. Hence, the FBM KLCI is likely to climb higher this week on continued upward momentum.

The trend of the FBM KLCI still remained down. Nonetheless, the strong rebound on last Thursday and Friday has lifted the key index to close above the 5 and 10-day simple moving average (SMA), indicating a possible near term trend change to the upside, and hence, the FBM KLCI is likely to move higher to test the overhead short term resistance zone posted by the 20 and 30-day SMA at 1,719 to 1,725, and a breakthrough of the 30-day SMA resistance at 1,725-point will likely see the key index rallying higher to test the pivot high resistance at 1,738, follow by the next resistance at 1,750. However, a failure to break through the resistance at 1,738 will see the FBM KLCI pulling back to stay in range-bound consolidation. For the coming week, the FBM KLCI is likely to move higher on follow through rebound in early part of the week but may see profit-taking ahead of the Hari Raya Aidilfitri holiday which starts on Friday, and Bursa Malaysia will be opened for half-a-day only on Thursday.

Last Friday, the Dow rose 211.79 points or 1.21% to close at 17,760.41. This week, the FBMKLCI is likely to trade within a range of 1,647 to 1,771, and today, the FBMKLCI is likely to trade within a range of 1,679 to 1,743.

This week's expected range: 1647 – 1771
Today's expected range: 1679 – 1743

Resistance: 1724, 1734, 1743
Support: 1679, 1688, 1702
Stocks to watch: ASDION, CANONE, COMCORP, DUFU, EATECH, EKOWOOD, EWEIN, HUPSENG, IRCB, JAKS, KIANJOO, KINSTEL, MAGNI, MINHO, OPENSYS, PERWAJA, PWROOT, PRLEXUS, PUNCAK, SENDAI, SERKOU, SUNSURIA, 3A, XDL
Disclaimer: The content on this site is provided as general information only and should not be taken as investment advice. All site content, shall not be construed as a recommendation to buy or sell any security or financial instrument. The ideas expressed are solely the opinions of the author. The Stocks to watch is not a recommendation to buy or sell the particular stock, as it is only meant for graduates of the "Share Trading the Pro Way" course as case study. Any action that you take as a result of information, analysis, or commentary on this site is ultimately your responsibility. Consult your investment adviser before making any investment decisions.