Stocks on Bursa Malaysia closed mixed yesterday with the benchmark index ended higher on last minute buying support for heavyweights amid cautious sentiments. The FBM KLCI finished at 1,727.26, the intra-day high level, up 6.16 points, or 0.36%, after touching an intraday low of 1,722.13. Gainers led losers by 376 to 353 with 341 counters unchanged. Total volume fell to 1.31 billion units valued at RM1.7 billion, from 1.48 billion units valued at RM1.69 billion on Tuesday.

Taking cue from the gains on Wall Street overnight, the FBM KLCI opened 1.91 points higher at 1,723.01 but slipped to hit the intra-day low of 1,722.13 twenty five minutes after opening on mild profit taking. The Key index rebounded from the low and climbed slightly higher to stay sideways range-bound throughout the day. Nonetheless, a last minute buying on selected blue-chips managed to push the FBM KLCI to close at the highest point of the day. Chart-wise, the FBM KLCI formed a bullish white candlestick which indicates the bulls were in control for the day, and hence, the key index is likely to move higher today on follow through buying. Immediate overhead resistance zone is at 1,728 to 1,738, while the immediate downside support zone is at 1,722 to 1,720.

MACD, albeit still below the zero-line, and its histogram continued to climb higher, indicating an increased in momentum to the upside. RSI (14) was higher at 50.3 from 47.5, indicating an improvement in the index's short term relative strength to the neutral state from a mildly bearish state. Stochastic was higher at 68 from 60.7, indicating further strengthening of the key index and continuation of the short term up cycle. Readings from the indicators showed that the FBM KLCI is gradually turning bullish, and hence, is likely to move higher in the short term.

The short term trend of the FBM KLCI has turned up as the key index has closed above the short term 5, 10, 15, 20 and 30-day simple moving averages (SMA). On top of that, the key index has also break above the upper resistance line of the downtrend channel, measuring from the pivot high of 1,867 to current level, indicating a trend change is imminent. Nevertheless, the FBM KLCI will have to break above the 1,738-point pivot high resistance level to confirm the change from sideways range-bound to an uptrend. As of now, the FBM KLCI is still range-bound within 1685 to 1,738, but with an upward bias.

Overnight, the Dow fell a marginal 3.41 points or -0.02% to close at 18,050.17. Today, the FBMKLCI is likely to trade within a range of 1,718 to 1,732.

This week's expected range: 1647 – 1771
Today's expected range: 1718 – 1732

Resistance: 1728, 1730, 1732
Support: 1718, 1720, 1723
Stocks to watch: ABRIC, E&O, EURO, GESHEN, GHLSYS, HBGLOB, HSL, INIX, KHEESAN, KIMLUN, KINSTEL, LEESK, NAIM, OCK, OKA, PENSONI, PRESBHD, SUNSURIA, WPRTS, XIANLNG, YTL
Stock pick highlight: KHEESAN (6203)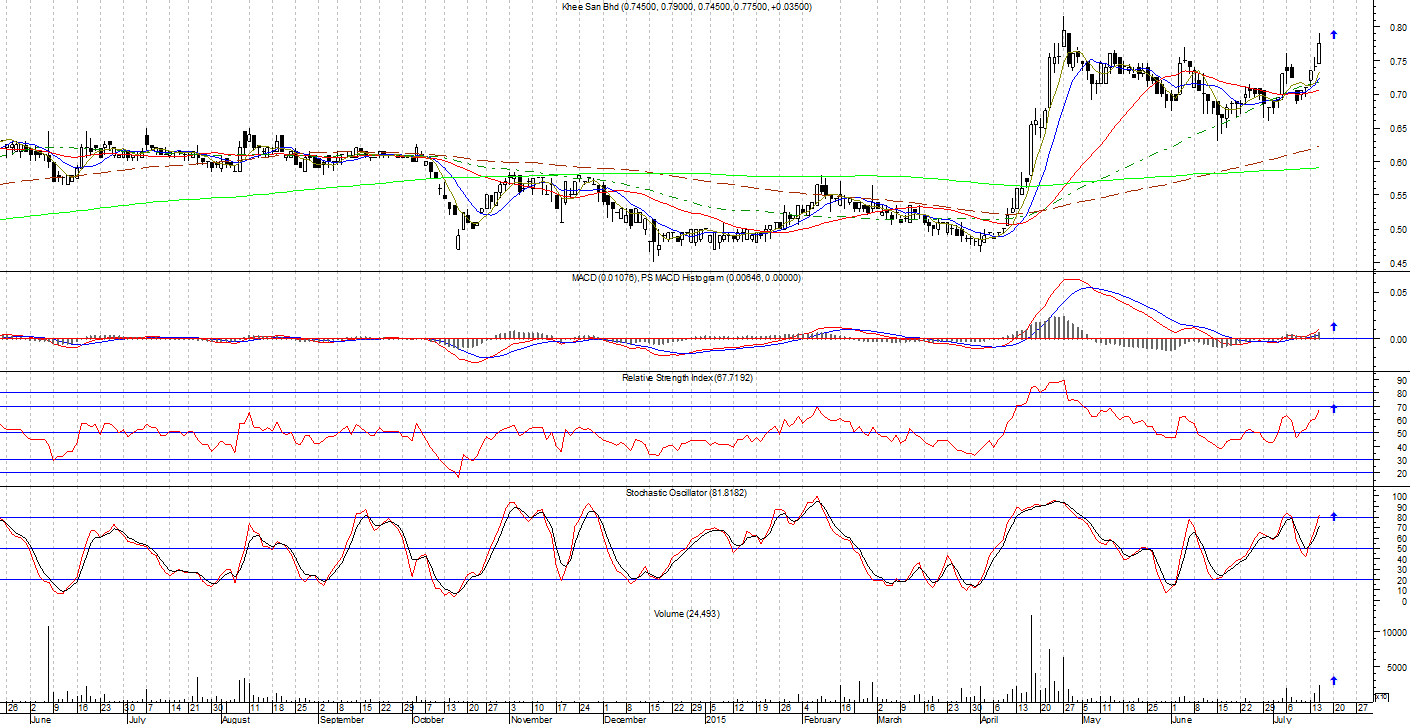 Last Price: RM0.775 +0.035
Support Level: RM0.745, RM0.685
Resistance Level: RM0.79, RM0.815, RM0.85, RM0.88, RM0.91, RM0.95, RM0.98, RM1.00, RM1.05, RM1.10, RM1.14
Entry Level: RM0.77 – RM0.78

Technical Analysis

KHEESAN (6203) rebounded from its intra-day low of 0.745 to close higher at 0.775 after hitting the intra-day high of 0.79. Technically, the chart of KHEESAN formed a bullish white candlestick with increasing volume indicating strong buying interest came into the stock yesterday. It breaks out from the consolidation forming an Inverse Head-&-Shoulder pattern breakout. MACD climbed upward, and is above the signal-line as well as above the zero-line, its histogram also extended upward strongly, indicating an increased in momentum to the upside and a buy signal. RSI (14) rose to 67.7 from 60.6, indicating the stock is turning more bullish from bullish. Stochastic rose to 81.8 from 68.3 and is staying above the slow stochastic line, indicating the stock is turning stronger after recent correction. The medium and long term trend of KHEESAN is up, and the short term trend is also up with the 5-day SMA staying above the 10-day SMA and both are above the 30-day SMA, and a confirmed breakout above RM0.79 will see an upside target of RM0.815, follow by RM0.85, RM0.88 RM0.91, RM0.95, RM0.98, RM1.00, RM1.05, RM1.10, and RM1.14.

Since the short term trend is bullish, day traders with shorter time frame perspective may ride on the short term bullishness and buy on breakout level (RM0.79). Those with lower risk appetite should wait at the side-line and buy on the dip.

Price Objective
Short Term – target price at (RM0.815, RM0.85, RM0.88 RM0.91, RM0.95), stop loss (RM0.74)
Mid Term – target price at (RM0.98, RM1.00, RM1.05, RM1.10, RM1.14), stop loss (RM0.68)
Disclaimer: The content on this site is provided as general information only and should not be taken as investment advice. All site content, shall not be construed as a recommendation to buy or sell any security or financial instrument. The ideas expressed are solely the opinions of the author. The Stocks to watch is not a recommendation to buy or sell the particular stock, as it is only meant for graduates of the "Share Trading the Pro Way" course as case study. Any action that you take as a result of information, analysis, or commentary on this site is ultimately your responsibility. Consult your investment adviser before making any investment decisions.