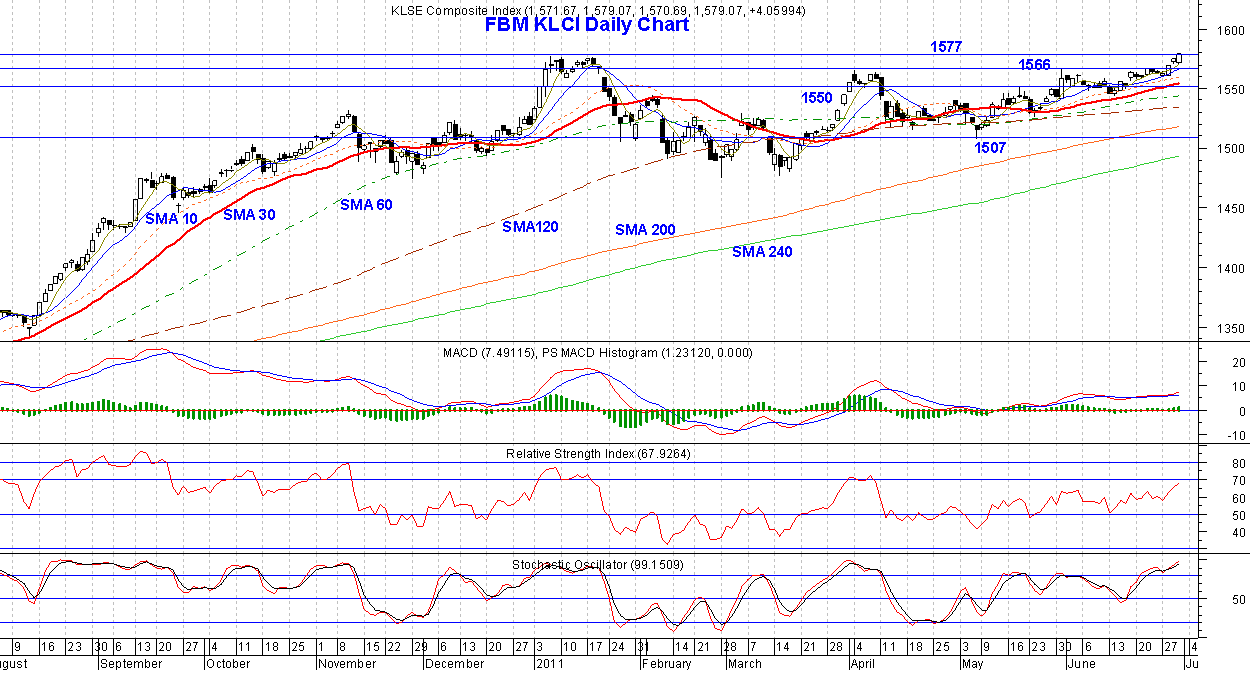 The benchmark FBM KLCI ended yesterday with a gain of 4.06 points or 0.26% at its historic high of 1,579.07 with most heavyweight counters posting gains on steady buying amid mid-year window dressing and rising commodity prices. The general market, however, ended mixed yesterday as investors stayed cautious on lingering concerns about the Greek debt problem. Advancers led decliners by 399 to 325 while 329 were unchanged. Volume decreased to 947.614 million shares valued at RM1.814 billion from Wednesday's 1.044 billion shares valued at RM1.796 billion.

The FBM KLCI opened 3.34 points lower at 1,571.67 and touched the intra-day low of 1,570.69 briefly after opening. The key index was trading in the negative territory but on a gradual intra-day uptrend for a major part of the day. However, buying interest on key heavyweights which surfaced in late afternoon has helped the benchmark FBM KLCI to end the day at historic high of 1,579.07. Chart-wise, the FBM KLCI formed a bullish engulfing candlestick which indicates buyers were in control for the day, and the key index is likely to continue marching forward into the uncharted territory targeting the 1,600-point level. However, heavy profit-taking activity is likely to take place which might capped the immediate upside of the benchmark index.

MACD continued to move higher, indicating a continued increase in the key index's momentum. RSI (14) was higher at 67.9, indicating the relative strength of the key index is getting more bullish. Stochastic was higher at 99.2, which indicates very strong market strength, but is short term overbought, and a pullback is expected soon. Readings from the indicators showed that the FBM KLCI is currently in a bullish state, and might continue its upward momentum to scale new high.

The underlying uptrend of the FBM KLCI remained intact. Immediate overhead resistance is expected at 1,582, 1,585 and 1,588 and the immediate downside support zone is at 1,570 to 1,566. Even though the benchmark index has charted new historic high, but the overall market doesn't seem to follow, as can be seen from the lackluster trading volume. Nevertheless, the general market will continue to see rotational play on the second and third liners as the FBM KLCI continue to move forward.

Overnight, the Dow rose +152.92 points or +1.25% to close at 12,414.34. Today, the FBM KLCI is likely to trade within a range of 1,565 to 1,588.

This week's expected range: 1540 – 1588Today's expected range: 1565 – 1588

Resistance: 1582, 1585, 1588Support: 1565, 1567, 1573

Stocks to watch: TCHONG, TAMBUN, CHHB, KURASIA, LIONDIV