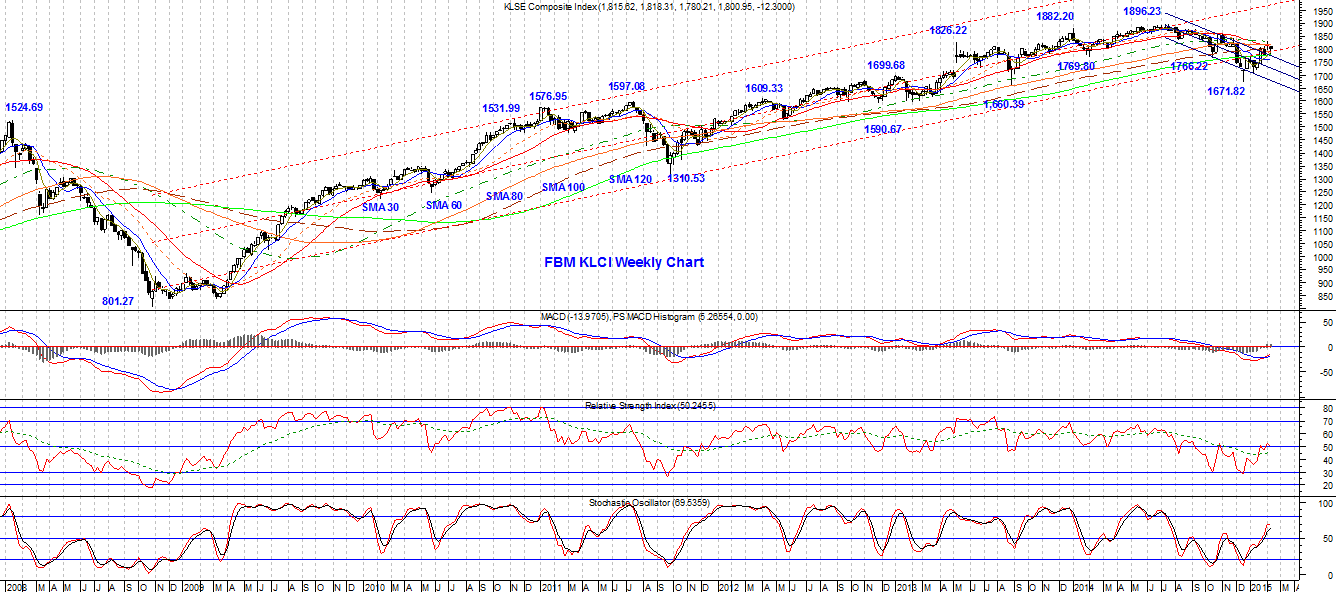 Stocks on Bursa Malaysia closed on a firm note last Friday, snapping a four-day losing streak, boosted by persistent buying momentum amid positive market sentiment. Bursa Malaysia and its regional peers was on an upside due to a rally in global oil prices, with the benchmark Brent crude oil hovering above US$59 in Asia on Friday, following the overnight Russia-Ukraine ceasefire deal. The benchmark FBM KLCI finished at its intra-day high of 1,800.95, up 11.88 points or 0.66% after slipping as low as 1,790.31. On a weekly basis, the FBM KLCI slipped 12.3 points from 1,813.25 the previous Friday. Advancers outnumbered decliners by 493 to 303, while 343 counters were unchanged. Total turnover expanded to 1.96 billion units valued at RM2.33 billion, from the 1.68 billion units valued at RM2.51 billion transacted on Thursday. Weekly turnover doubled to 10.43 billion units valued at RM11.44 billion from 5.98 billion units valued at RM6.93 billion previously.
The FBM KLCI was in a correction mode for most part of last week where it opened last Monday 2.37 points higher at 1,815.62 and surged to hit the intra-week high of 1,818.31 briefly after opening before closing 1.67 points lower 1,811.58, dampened by selling in selected blue chips and heavyweights led by CIMB. The FBM KLCI continued its consolidation on Tuesday to settle 0.46 points lower at 1,811.12 points after fluctuating between 1,808.69 and 1,816.62 throughout the day. Wednesday saw the FBM KLCI down 12.17 points to 1,798.95, dragged down mainly by losses in TENAGA over the new electricity tariff cut. Thursday saw the benchmark index down another 9.88 points to 1,789.07 after hitting an intra-week low of 1,780.21, despite the better-than-expected 2014 gross domestic product (GDP) growth of 6%. The FBM KLCI staged a strong rebound on Friday to close 11.88 points higher at 1,800.95.

On the weekly chart, the FBM KLCI formed a bearish black hangman-like candlestick which confirmed the top reversal signal from the previous week's high wave black spinning-top candlestick, and hence, the FBM KLCI is likely to further consolidate in the coming holiday-shortened week with only two and a half trading days. However, on the daily chart, the FBM KLCI formed a bullish white candlestick on Friday which confirmed the bottom reversal signal generated by the black hammer candlestick on Thursday, and hence, the key index is likely to climb higher today on follow through buying momentum. Immediate overhead resistance zone is at 1,805 to 1,818, while the immediate downside support zone is at 1,790 to 1,780.

Weekly MACD, which is still below the zero-line, and its histogram continued to climb higher, indicating an increased in the upward momentum. Daily MACD slid lower marginally and is just above the signal-line, indicating a state of consolidation. Weekly RSI (14) hooked downward to 50.2 from 52.3, indicating the weekly relative strength of the FBM KLCI is neutral. Daily RSI (14) hooked upward to 57.6 from 53.3, indicating a technical rebound and the key index is turning stronger in the mildly bullish zone. Weekly Stochastic showed sign of tapering and was marginally higher at 69.5 from 68.4, indicating a reduction in the weekly upward momentum. Daily Stochastic was lower at 47.3 from 59.3, indicating further weakening of the index and continuation of the down cycle. In short, mixed readings from both the weekly and daily indicators showed that the FBM KLCI is in a state of consolidation, and is likely to further consolidate in the coming week.

The technical picture of the FBM KLCI is still very much unchanged in that the short term trend is up, and the medium term trend is sideways, while the longer term trend is still down. With the strong rebound on last Friday, the FBM KLCI has closed above the 10 and 15-day simple moving average (SMA) after closing below these two short term moving average on Thursday. Nonetheless, the key index is still below the 5-day SMA which is currently at 1,802-point, and a break above the 5-day SMA will see the FBM KLCI fully resuming its short term uptrend. For the coming holiday-shortened week, the FBM KLCI is likely to trend higher on improved market sentiment. However, trading activity may reduce ahead of the long Chinese New Year holiday which falls on Thursday and Friday.

Last Friday, the Dow rose 46.97 points or 0.26% to close at 18,019.35. This week, the FBMKLCI is likely to trade within a range of 1,743 to 1,856, and today, the FBMKLCI is likely to trade within a range of 1,783 to 1,811.

This week's expected range: 1743 – 1856
Today's expected range: 1783 – 1811

Resistance: 1804, 1808, 1811
Support: 1783, 1786, 1793
Stocks to watch: BARAKAH, BDB, EVERGRN, GHLSYS, ICON, IQGROUP, JTIASA, KNM, LBALUM, LONBISC, MBSB, MIKROMB, NIHSIN, OKA, PANTECH, PERDANA, PERISAI, SALCON, TGOFFS, TNLOGIS
Disclaimer: The content on this site is provided as general information only and should not be taken as investment advice. All site content, shall not be construed as a recommendation to buy or sell any security or financial instrument. The ideas expressed are solely the opinions of the author. The Stocks to watch is not a recommendation to buy or sell the particular stock, as it is only meant for graduates of the "Share Trading the Pro Way" course as case study. Any action that you take as a result of information, analysis, or commentary on this site is ultimately your responsibility. Consult your investment adviser before making any investment decisions.