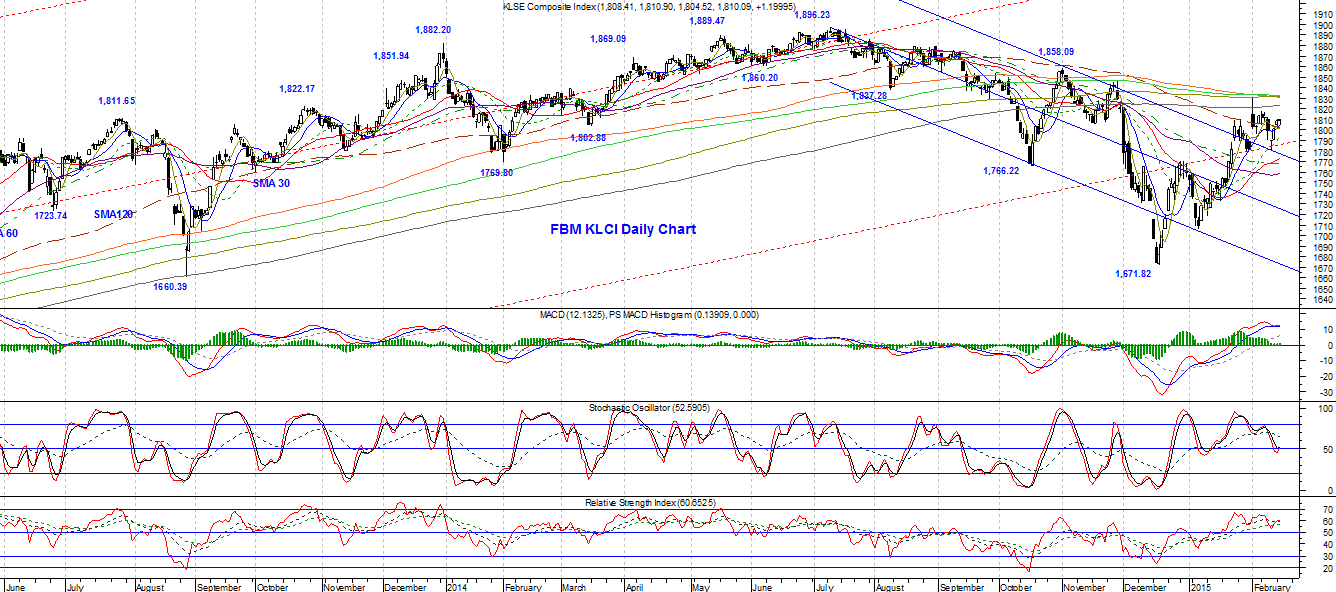 Stocks on Bursa Malaysia closed firmer yesterday lifted by last-minute buying in selected blue-chips and small caps. Trading had been slow ahead of the Chinese New Year celebrations, which start this Thursday. Late buying of TENAGA and PETGAS lifted the FBM KLCI to close slightly higher after staying in the red most of the day. At close, the FBM KLCI finished at 1,810.09, up 1.2 points or 0.07% after hovering between 1,804.52 and 1,810.9. Losers led gainers by 381 to 349, while 343 counters were unchanged. Total turnover contracted to 1.67 billion units valued at RM1.49 billion from 2.06 billion units valued at RM2.12 billion transacted on Monday.

The FBM KLCI opened 0.48 of a point lower at 1,808.41 and surged to hit the intra-day high of 1,810.90 briefly after opening. However, the upward move could not last and the key index slipped on profit-taking activity to hit the intra-day low of 1,804.52 at noon. The FBM KLCI rebounded from the low and moved sideways in the negative territory throughout the afternoon session, and a last minute buying of selected blue-chips lifted the index back to the positive territory. Chart-wise, the FBM KLCI formed a white hanging-man candlestick, a top reversal candlestick pattern which indicates the key index was suffering from mild selling pressure as shown by the longer lower shadow but a last minute effort lifted the index to close higher. Hence, the FBM KLCI is likely to stay in range-bound consolidation today.

MACD was flat, indicating the FBM KLCI was in a state of consolidation. RSI (14) was marginally higher at 60.6 from 60.2, indicating consolidation with a mild upward bias. Stochastic, however, hooked upward to 52.6 from 44.6 and made a golden-cross over the slow stochastic line, issuing a stochastic buy signal and indicated a possible end to the short term down cycle. Readings from the indicators showed that the FBM KLCI is in a consolidation mode with mild upward bias.

The technical picture of the FBM KLCI still remained unchanged in the short term trend is up, and the medium term trend is sideways, while the long term trend still remained down but with an upward bias. For today, trading on Bursa Malaysia is expected to go slow as the bourse is only open for half a day ahead of the Chinese New Year celebration which starts tomorrow. We like to take this opportunity to wish all our Chinese readers Gong Xi Fa Cai, and the non-Chinese a happy holiday. May the Year of Goat bring you good health, great wealth and ample happiness.

Overnight, the Dow rose 28.23 points or 0.16% to close at 18,047.58. Today, the FBMKLCI is likely to trade within a range of 1,799 to 1,817.

This week's expected range: 1743 – 1856
Today's expected range: 1799 – 1817

Resistance: 1812, 1814, 1817
Support: 1799, 1802, 1806
Stocks to watch: AWC, EATECH, EG, ELSOFT, FRONTKN, IFCAMSC, JAKS, KANGER, MAA, PARAMON, SALCON, SCICOM, SYSTECH, TMCLIFE, UZMA, VSOLAR, WCT, XDL
Disclaimer: The content on this site is provided as general information only and should not be taken as investment advice. All site content, shall not be construed as a recommendation to buy or sell any security or financial instrument. The ideas expressed are solely the opinions of the author. The Stocks to watch is not a recommendation to buy or sell the particular stock, as it is only meant for graduates of the "Share Trading the Pro Way" course as case study. Any action that you take as a result of information, analysis, or commentary on this site is ultimately your responsibility. Consult your investment adviser before making any investment decisions.